Pre-release BlackBerry Bold 9900 sells for £900 ($1,448) on eBay UK
7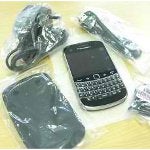 Although it might come as a surprise to some people, there are actually people out there who are willing to shell out extravagant sums of money in order to literally be the first one to sport a brand spanking new handset.
Well, this applies to one lucky owner who managed to pick up a pre-release
BlackBerry Bold 9900
over on
eBay UK
for the "buy it now" price of
£900
, which translates over to a whopping
$1,448
. No doubt that it's pricey, but we're sure that the winning buyer is going to be extremely happy very soon as they'll be able to hold it in hand. Plus, they'll have the satisfaction knowing that they're going to be one of the few consumers around the globe to sport it besides RIM's testers and whatnot.
As for the rest of us drooling over this ultra-sweet looking smartphone, we're still waiting for word regarding
concrete release dates
for the upcoming smartphone.
source:
eBay UK
via
CrackBerry