Power tool-maker DeWalt launches its very own, very rugged smartphone
20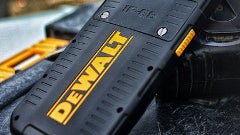 When considering the purchase of a new smartphone, we generally assess features such as battery life, graphics performance, speed and camera quality. By and large, design should also be aesthetically pleasing, and the device comfortable to hold while in use. For those that work in harsh environments like construction sites, a device must also withstand the elements. Whilst there's no shortage of rugged handsets on the market already, DeWalt has unveiled a tough device that looks more like toolbox fodder than a new smartphone.
The DeWalt MD501 is IP68-certified, so can hack a 30-minute submersion in up to two meters of water without issue. It can also cope with extreme changes in temperature, ranging from -20°C (-4F) all the way up to 60°C (140F). Aside from its brawn, though, the DeWalt MD501 is not
too
bad a smartphone when it comes to tech. specs.
The 5-inch display is an HD offering (though only 720p resolution), and is toughened by Corning's Gorilla Glass 3. Under the hood sits MediaTek's quad-core MT6735 SoC clocked at 1.3 GHz, allied to 2 GB of RAM. Elsewhere, there's 16 GB of expandable storage space, 5- and 13-megapixel cameras on the front and back respectively, and the 3020 mAh battery is supportive of Qi wireless charging.
Along with 4G LTE, the MD501 boasts all of the usual connectivity including Wi-Fi, Bluetooth 4.0 and NFC, and arrives in the UK at a cost of £379 ($543). Software-wise -- though Android 6.0 Marshmallow out of the box would be favorable -- the MD501 instead gets Android 5.1 Lollipop.
Of course, the specs could be better. But given the target audience of builders and engineers, DeWalt knows that folk within these fields tend to require a handset that can hold its own, rather than one that boasts a strong score on AnTuTu.
Though it doesn't appear that the DeWalt MD 501 is available to purchase just yet, interested parties can sign up to the firm's mailing list at the source.
Recommended Stories