Popular indie top-down shooter The Binding of Isaac: Rebirth finally launches on the App Store
2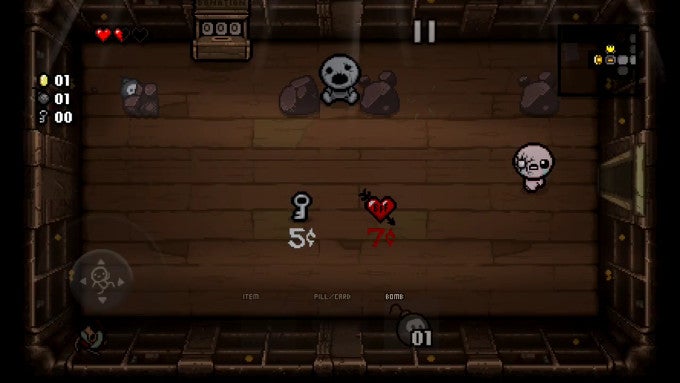 A year after
Apple rejected the title from its App Store
, The Binding of Isaac: Rebirth is now available for purchase on all devices running iOS version 10 and up. The game is a remade version of the original PC-exclusive title simply called The Binding of Isaac, with revamped graphics and many new features added in the process.
Initially not allowed on Apple's storefront due to its depiction of abuse towards children, the game is now up for sale "with no changes made",
according to creator Edmund McMillen
. The move is quite possibly a result of the
complete rewrite of the App Store guidelines
back in June, which resulted in limiting the ban on abuse toward children only to cases where it's deemed realistic. The overall controversy surrounding the title, however, stemmed from its grotesque storyline and visuals, littered with various Christian references and religious imagery. In it, the protagonist, named Isaac, is a boy on the run from his mother, who believes God told her she has to kill her child. To survive in the basement he's hiding in, Isaac is forced to commit various acts of self-mutilation, becoming more powerful in the process. The game caused some outrage among a few religious groups, but received widespread critical acclaim nevertheless, with its PC version currently holding
a score of 84 on review aggregator Metacritic
.
The game plays mostly as a conventional top-down twin-stick shooter. Using the wide variety of weapons and collectible objects, the player has to survive against hordes of demonic enemies in randomly-generated levels reminiscent of dungeons from early Zelda games. The iOS version of the game supports local multiplayer, with a MFi controller required. Unfortunately, as of now the port doesn't include the Afterbirth or Afterbirth+ expansions, but hopefully they will be added in a future update.