Popular director shoots a movie with the iPhone 4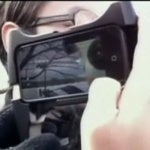 We guess that when Alexander Bell invented the telephone, he didn't foresee this device will evolve so much that you will be able to shoot a movie with it. And, yet, in just another tribute to the possibilities that the smartphones/tablets offer, a high-profile Korean director, who is a multiple winner of the prestigious Cannes Film Festival award, has made a movie equipped only with iPhones.
Just to remind you that now we have an album created with the iPad (
Gorillaz's The Fall
), a photography magazine that used the
Nokia N8's camera
for one of its issues and another bunch of
professional-grade photos
made by the iPhone 3GS. The director, named Park Chan-wook, says that shooting the movie with the iPhone gave him freedom while directing "
Night Fishing
":
"Movies that I directed before were meticulously planned ahead and shot just as pictured. Compared to that, shooting this film felt free, and everyone had an equal amount of say. Some scenes were shot from more interesting angles than previously intended."
Well, smartphones are becoming more and more powerful all the time, and with tablets gaining popularity, it's hard to predict just how far the mobile industry will go in a year time.
source:
Reuters