Poll results: Would you pick a curved smartphone like the LG G Flex 2 over a flat one?
27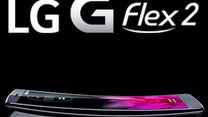 CES 2015 has come and gone, but the splash made by the gadgets shown off at the show will resonate for quite some time. And without a doubt, it was the
LG G Flex 2
that produced the biggest bang, at least in the smartphone department. It is remarkable not only with its potent hardware muscle, but also with its unique design and the perks that come along with it. And we're betting that the handset is now on the wishlists of many who have familiarized themselves with it via our
G Flex 2 hands-on
.
However, there seems to be a great number of folks who don't really care if their smartphone is flat or curved. At least that's the conclusion we arrived at after analyzing the results from our recent poll, where we asked our readers whether they'd pick a curved smartphone over a flat one. About 39% of all who voted would buy a great smartphone regardless of its shape. The percentage of people who don't see enough benefit of curved smartphones over flat ones is also pretty significant – about 31.6%. And last but not least, there's the minority of folks who are throwing money at their screens as we write these lines. About 29.5% of the respondents are eager to buy a curved smartphone like the LG G Flex 2.
Surprised by these results? Which group do you belong to? Let us know in the comments below!
Recommended Stories