Poll results: What is the perfect smartphone display size for you? See how preferences changed in the past 4 years
44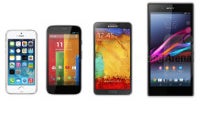 What's the perfect display size for you? That's one of the inevitable questions all of us ask ourselves when contemplating a new device. And that makes sense – after all, it'll be you lugging around a heavy 6-incher if you decide that you want a media hub on the go.
But dial a few years back, and a 6-inch smartphone would have sounded absolutely outrageous! Indeed,
back in 2011
, when we asked you to vote for what you considered an ideal screen size, the majority (40.54%) of you picked the 4" to 4.29" bracket, with only a quarter of the remainder picking the over 4.3" one – the phablet lovers of the time. Two and a half years later,
in 2014
, we decided it was time we checked again with you in order to see just how much preferences had changed. Unsurprisingly, we noted a massive shift in the sizes people favored – the majority (37.55%) now liked the 4.5" to 4.99" bracket best, and quite a few people were hooked on devices larger than that.
Last Monday, a little over a year after the last survey of this kind, we thought we'd take our readership's pulse on this once again. As you can see for yourself, preferences have once again shifted, with the biggest group of people (42.73%) now belonging to the 5" to 5.49" category. Next up, with 32.3%, is the 4.5" to 4.99" bracket, followed by the 5.5" to 5.99" one (14.93%).