Poll results: Moto E: is this the end of the feature phone?
41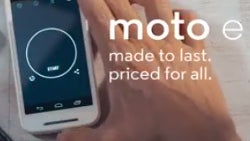 The
Motorola Moto E
is a phone that does not have any ground-breaking features: it's got no
Quad HD display
(and not even 1080p one), it's system chip is not among the fastest out there, nor is its camera all that amazing, but still it has managed to capture our attention for one huge reason.
We're talking about price of course - the Moto E does not deliver great in any aspect, but it does bring good features all-around at a very affordable price: just $129 off-contract. Last week, we asked you whether you think that with its alluring price tag, the
Moto E could finally bring forth the end of feature phones
, sold for around the same price.
Now, the answers are in: an overwhelming nearly 66% of you think that the Moto E does indeed have the potential to be the lethal weapon that kills the feature phone for good. The remaining 34% disagree.
What were your reasons? Those who voted in favor pointed out that people will always prefer the vastly superior functionality of a smartphone over a feature phone now that the price gap is little, if there at all. On the other side, arguments ran that feature phones will never die since they can go down in price to cost just tens of dollars, and in addition, they offer great battery life that no smartphone can ever match.
Either way, results show that feature phones have one serious killer in the form of the Moto E. And as to whether they'd fade away or not? Only time will tell.