Poll: The only upgrade in the iPad mini 3 is TouchID; so, is it worth $399?
52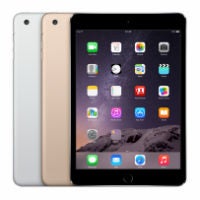 If you were watching the Apple event live stream today, you probably noticed that the iPad mini 3 didn't really get a proper announcement. Apple barely announced the device, except to run through the price of it. As we let you know earlier, the iPad mini 3 is
sticking with the A7
processor, but the similarities are actually a lot deeper than that.
Jump over to Apple's site and take a look at the
iPad comparison page
. If you run through the differences between the iPad mini 2 and iPad mini 3, you'll notice just two differences: the iPad mini 3 has TouchID, and it costs $100 more. That's it. No joke, go take a look for yourself. Now, TouchID is a really cool feature. It is huge for security; it lets you easily unlock your device or authenticate iTunes; and, it'll let you use Apple Pay. That's not nothing, but the question is whether or not that one difference means the device is worth $100 more than the iPad mini 2.
It seems like Apple could have simply replaced the iPad mini 2 with the new one instead of leaving all three in the roster. So, we'll turn it over to you all out there. Do you think the iPad mini 3 is worth the cost?