Poll: Is the Nexus 6's 5.9-inch display appropriate, or overkill?
41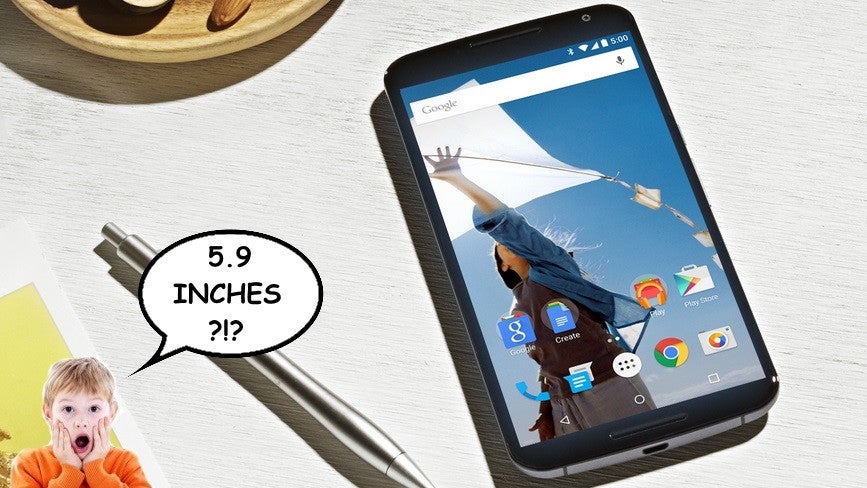 Holy cow! Hey, we've had plenty of time to get used to the idea that Google & Co.'s Nexus phones are always designed to represent the pinnacle of mobile hardware at the given moment. But the Nexus 6, folks? Google and Moto went ballistic with this thing, and we're not talking exclusively about the hardware!Although the Snapdragon 805 processor and 3GB scream right now, in a matter of few short months they will become yesterday's news, outclassed by molten-hot 64-bit silicon. But what about that 5.9-inch display? With a display this size, you're not even allowed to think about one-handed usage and comfortable portability. It's out of the question. A phablet of such measurements is used and carried around exactly like a small tablet. We are inclined to think that the majority of users would rather prefer something more manageable at around 5 inches. Heck, big 5.5-inch phablets are still considered a little bit niche outside of Asia. Just look at how the 4.7-inch iPhone 6 is
outselling the iPhone 6 Plus
- that's got to mean something.
But back on our thesis. By releasing a the Nexus 6 exclusively with that wholesome, and scary 5.9-inch QHD display, Google and Moto made a non-verbal statement that reads something like this: "We're introducing the most powerful smartphone you can possibly have in October 2014. It looks okay-ish. You can't really use it one-handed or carry it in your tight pockets. This thing is about one thing only - raw power! Android developers, modders, and fans will have a field day with this one.". This time, the Nexus overlords abandoned the "beast hardware on a budget for everyone who's interested" and went straight to the spec enthusiasts. The 5.9-inch QHD display might be the most impressive way to showcase Android 5.0 Lolipop and its elaborate design language, but in our eyes, it limits the Nexus 6's appeal towards the special types that know very well what they want, and are keen to live with its portability and design compromises. Don't get us wrong, though. We love the Xperia Z Ultra. We love the Huawei Ascend Mate 7. It's just that Google really surprised us by boldly turning its smartphone for the masses into a whopping 5.9-inch phablet for nuclear-testing Android.
Whew. We got that off our collective chest. Now, what do YOU think about the Nexus 6's voluptuous screen? Vote and share your thoughts below!