Poll: Do you think the OnePlus 3T is a worthy successor to the OnePlus 3?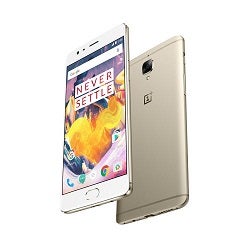 After weeks upon weeks of nonstop rumors, OnePlus finally pulled the trigger and
officially unveiled the OnePlus 3T
. Rumors have been flying around for quite some time now that the company would release an incremental update to the
OnePlus 3
hardware, and OnePlus took to a Facebook live stream to announce the new hardware. The presentation for the announcement was a bit odd to say the least, but in any case, we now have legit details on what the
OnePlus 3T
will be packing, when it will be available, and how much it's going to cost.
The OnePlus 3T isn't necessarily a direct successor to the OnePlus 3 like the
iPhone 7
is to the 6S, but more of a hardware refresh with updated specs to make the phone more modern and comparable when compared to more recent flagships that have entered the market. We've posted a few articles
outlining the specs of the 3T
, but for the purpose of this poll, here are the main differences between the OnePlus 3 and the 3T -
Processor - Snapdragon 820 vs 821
Storage - 64GB vs 64GB and 128GB
Front-facing camera - 8MP vs 16MP
Battery - 3000 mAh vs 3400 mAh
Price - $399 vs $439 (for 64GB of storage)
As for the rest of the specs, everything else is pretty much the same between the OnePlus 3 and 3T. The display is still a 5.5-inch AMOLED panel with a resolution of 1920 x 1080, 6GB of RAM is present for multi-tasking, the 16MP camera on the back remains unchanged (aside from a new sapphire crystal lens cover), and the overall design of the phone remains unchanged as well - give for the new Gunmetal color option in place of Graphite that was introduced with the OnePlus 3.
It's easy to see that a few changes were made, but the majority of them are quite incremental. However, costing just $40 more than the OnePlus 3, the 3T packs a newer processor, hugely improved selfie camera, and a beefier battery. So, with all of that said, do you think the OnePlus 3 is worth it?