Poll: Do you think the Apple Watch is the best smartwatch yet?
59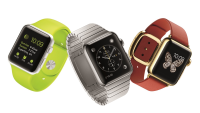 It was going to appear in September! No, it wasn't going to appear. It was better off being left for September 2015! No, it had to be introduced right now! It was going to be Swiss-made! No, Apple will make it in California! The Apple Watch is the most mythical device to have come out of Cupertino, ever. And with the aura of mystery and hype surrounding it well until its official announcement became fact, we felt compelled to ask what you thought of it? Did it answer your expectations? Is Switzerland's esteemed watchmaking elite in trouble? And more importantly, do you think this is the best smartwatch so far?
Leave your opinion on the table and let's discuss the progenitor of Apple's first new product category in years!