Pokemon GO players can now battle each other if they are Level 10 or higher
7
Tweets sent out from the official Pokemon GO Twitter account
late yesterday indicate that the long awaited player vs. player feature is finally available now to those using the Pokemon GO app. According to a message found in the app, Pokemon GO players will need to put together a team of three Pokemon to take on "a nearby trainer in battle." Trainers at Level 10 or up will be able to participate in these trainer vs. trainer battles.
Pokemon selected to battle other trainers can use their Fast Attack and Charged Attack for these skirmishes. Trainers can also unlock another Charged Attack to use in these contests. Players who do participate in these trainer battles will be able to earn rare Evolution items. To prepare for these fights, Pokemon GO players can train with Team Leaders Spark, Candela and Blanche. And Ultra Friends and Best Friends can challenge each other to trainer battles from any location.
Pokemon GO, at last look, still brings in a large sum of money. The recent release of the
Let's Go Pikachu
and
Let's Go Evee
games for the Nintendo Switch have given former Pokemon GO players the incentive to fire up the app and catch more Pokemon. After all, the pocket monsters collected in the AR game can be imported into the new games for the Switch platform.
"In designing Trainer Battles, we wanted to emphasize the importance of strategy. For example, battle updates that accompany Trainer Battles will increase type-effectiveness bonuses, and Trainers will be able to unlock an additional Charged Attack for their Pokémon to increase their versatility in battle. Changes like these enable Trainers to think more creatively in order to beat their opponent in a fast-paced format that is unique to Pokémon GO. Do you want to create a team that's optimized to counter Pokémon most commonly used among friends? Or do you create a team that has diverse moves that cover more types? Exactly which Charged Attacks do you want your Pokémon to have? Which do you think your opponent has? These are just a few of the many questions we believe Trainers will mull over when picking their ideal Pokémon battle party, creating an interesting and diverse landscape of local metagames."-Pokemon GO team
If the update hasn't hit your phone, or you have yet to play Pokemon GO, you can install the app now on your
Android
or
iOS phone
.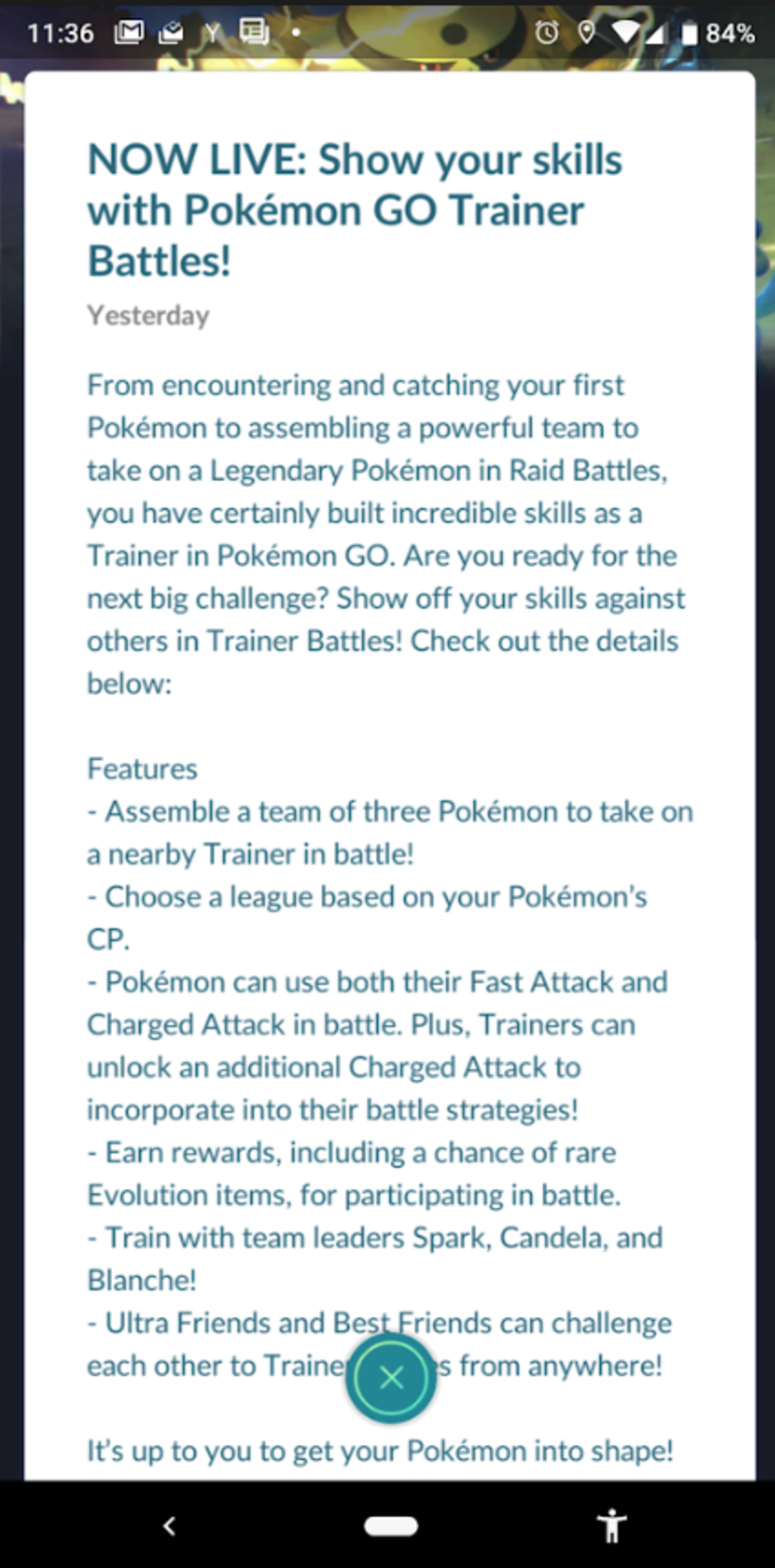 Pokemon trainers at Level 10 or higher can now participate in trainer vs. trainer battles
Recommended Stories