Pizza Hut video warns you about selfie sticks, but really just wants to sell you a pizza
5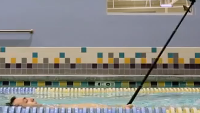 "
Selfies are beautiful
," says Pizza Hut in a new video. But the selfie is in danger, according to the purveyor of pizza, because of the selfie stick. Thanks to the way that these devices extend the front-facing camera away from the subject of the selfie, an illusion is created that other people exist. Those carrying a selfie stick are then drawn into a wider world where they are headed for disaster.
These selfie addicts used to be focused on themselves. Heck, it goes with the territory. But thanks to the selfie stick, egotistical smartphone owners now realize that they can take pictures of so many other subjects. At the same time, because selfie addicts tend to be highly competitive, selfie sticks are growing in size to the point where they have doubled and tripled in length.
But bigger selfie sticks mean bigger pizza, right? And Pizza Hut is now offering its 2-foot
Big Flavor Dipper Pizza
. The video ends with Pizza Hut hoping that you will share the video with those you love, in order to warn them of the dangers of selfie stick abuse. But what the company is really saying is that "
we hope you got a chuckle out of viewing this video and you could reward us for producing it by spending $12.99 on our new 2-foot pizza
."
Before you make that tough decision, check out the PSA from Pizza Hut by clicking on the video below.
source:
PizzaHut
via
Gizmodo