Pixelmator Photo is a new and powerful RAW photo editor designed for iPad from the ground up
7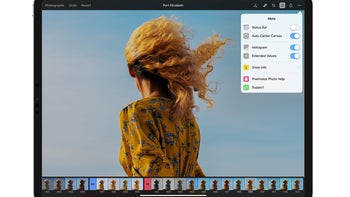 Pixelmator is a name that is well-known among photo enthusiasts: it is one of the best image editors around, and ever since Apple itself teased the new Pixelmator Photo for iPad at its late 2018 event, we were thrilled to see how it improves RAW photo editing on the go.
Now, Pixelmator Photo is here and it's everything it promised to be. It supports over 500 different RAW formats, meaning that you can easily bring all sorts of files from all sorts of cameras onto your iPad. The most impressive feature, however, seems to be the AI engine inside the app. The developers of the app used a neural network of some 20 million image pairs to come up with a one-button "enhance" button that brings the best of your photos. The machine learning capabilities also apply to even simple operations like cropping, so you get a suggested crop without ever manually tweaking the image.
Another extremely cool feature of Pixelmator Photo is object removal, which allows you to replace an object or a person that got into your photo and have it replaced with the background of the image effortlessly
And here is a quick overview of the functionalities that you get in Pixelmator Photo:
You should also know that unlike many other apps, Pixelmator Photo is designed from the ground up with the iPad in mind and it's not just an iPhone app ported to a larger screen. You get fast and smooth performance, controls optimized for the larger screen estate, and impressively smooth rotation of the menus when switching between landscape and portrait mode for editing.
Pixelmator Photo is a photo editor unlike any other. It features a collection of nondestructive, desktop-class color adjustments. A set of gorgeous presets inspired by analog photography. A magical Repair tool to remove unwanted objects. Full support for editing RAW images. Artificial intelligence that automatically improves photos like a pro photographer. And it's designed exclusively for iPad, bringing the most native and intuitive editing experience imaginable.
The app also integrates with iCloud Drive perfectly, so you can grab your files with no delay, wherever you are and whatever machine you are using, which makes switching from iMac to iPad for editing one effortless process.
You also get a bunch of film emulation presets with the app, which is another cool feature.
Best of all, Pixelmator Photo is available for a set price of just $5 and there are no in-app purchases, and no shenanigans.