Pixel 4 XL Superzoom is for real: test shows it beats iPhone 11 Pro Max zooming system
21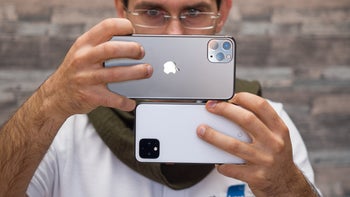 The Pixel 4 series come with a dual camera system this year: a main camera and a telephoto one that Google says comes in handy for zoomed in shots.
But unlike other phones, you don't have a button to switch to that second camera: instead, Google says you are supposed to zoom gradually to whatever level you like and you will get a shot with a good amount of detail at all levels, not just when strictly using the telephoto camera.
This technology is called
Superzoom
and it uses complicated algorithms to enhance your zoomed in photos.
But does it really work in real life and how much of a gamechanger is it?
Super zoom tested
To understand that, we first start by comparing superzoom to an image captured with the main camera and then cropped to match the zoom level on the superzoom photo. We have used 4X zoom level for this example and we have cropped in the same part from the picture shot on the regular camera:
As you can see, the difference is quite noticeable: you have a lot more noise on the cropped image. Superzoom does indeed make a difference.
We also compare Superzoom at various levels against the popular iPhone 11 Pro Max (which has a 2X telephoto camera, but no "superzoom" alternative).
Let's start with the main image, shot on the regular camera:
1X
At this point, you can just see the difference in general, we start looking at the zoom levels from the next photo.
2X
At 2X zoom, the iPhone actually uses its secondary camera, so it should capture a superb image. We do, however, see that the two are pretty close in terms of resolved detail and the Pixel even outdoes the iPhone a bit.

3X
At 3X zoom, the advantages of the Superzoom system start to show as you get far less noise and a better resolved detail on the Pixel.
4X
Those differences only amp up at 4X zoom level. The iPhone looks grainy, while the Pixel still captures a very sharp and more pleasing photo.
The Pixel can zoom all the way up to 8X zoom and you will see the benefits from Superzoom all across the zoom range, at any level. It is not something that counts as a camera revolution, but it's definitely an improvement that we appreciate seeing.
So yes, next time when you take a picture with your Pixel don't hesitate about using the digital zoom at any level: you will capture the shot you want and chances are that it will look quite good.