Pirates of the Caribbean: Tides of War will ride the hype ship of the new movie's release
2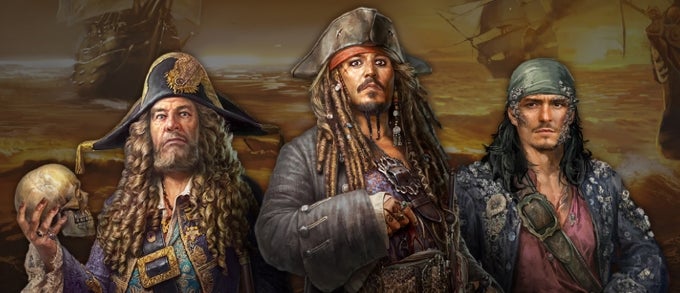 Pirates of the Caribbean is one of the most successful franchises Disney has ever had. Originally just a ride in Disneyland, it later evolved into a multimedia franchise that's racking up millions of revenue every year. The newest addition to the main series of movies is hitting theaters on May 26, and there will be a mobile game to accompany it.
Pirates of the Caribbean: Tides of War was just announced by its developers, Joycity, and pre-registrations for both the Android and iOS versions are now open, and you can find them in the source link below. The game will reportedly be a strategy MMO, featuring characters, ships and storylines based on the famous franchise. Familiar faces, such as Jack Sparrow, Captain Barbosa and Will Turner are confirmed to make an appearance in the game.
According to the official press release, you will play as a pirate and "will experience different playstyles with various strategies through building and ship construction and troops training." For some reason, when we read this we though that this is where the microtransactions will come in, with the vastly popular Time Gating model. This remains to be seen, though.
"We're confident that this mobile game will align with the quality and high entertainment value that fans have come to expect from the Pirates of the Caribbean franchise," said Hanseo Jo, COO of Joycity. "Players will be able to experience the same fun and excitement from the game as they've felt from the movies themselves."
We're not sure if a mobile game can really be on par with the Pirates of the Caribbean movies, when it comes to excitement, but it could very well prove to be a market success if it manages to harness the hype around the new movie release.
source:
Joycity
via
VentureBeat