Piper Jaffrey is slashing Apple iPhone 6s sales forecast: now predicts sales dropping for the first time in 2016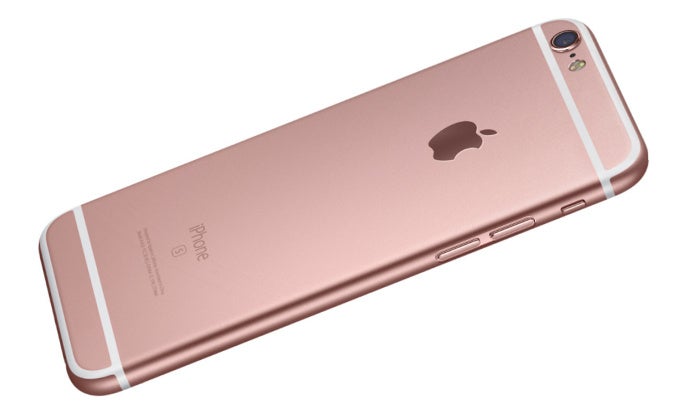 Investment firm Piper Jaffrey represented by analyst Gene Munster has lowered its predictions for
iPhone 6s
sales for the March quarter of 2016, after three suppliers have allegedly confirmed a 10% to 15% decline in component orders, and after a Nikkei report went even further by suggesting a 30% drop in supplier orders.
"While Apple has repeatedly stated in the past that the changes in orders from any given supplier are not indicative of the health of the iPhone business overall, we believe that the combination of three supplier guidedowns (Dialog Semiconductor, Qorvo and Cirrus Logic) as well as the Nikkei story suggesting production cuts from last week are too much collective evidence to not adjust iPhone expectations,"
Munster writes in a note.
Suppliers orders suggest iPhone sales will go down for the first time in 2016
All of this leads to a revised estimate for sales of 55 million iPhones in Apple's second fiscal quarter (the quarter ending March 2016, Q2 2016 in Apple's books), down from Piper Jaffrey's initial forecast for iPhone sales of 62.5 million. In comparison, Apple sold 61.17 million iPhones in the same quarter of 2015, a number that indicates a significant blow to iPhone sales in 2016.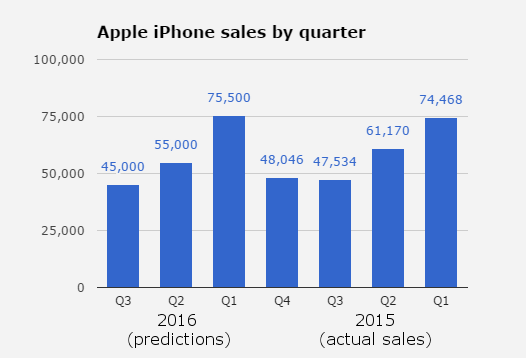 Piper Jaffrey's forecast for June quarter (Q3 2016 in Apple's books) iPhone sales has also been revised down from 48.5 million units to 45 million. This would be another year-on-year decline from the 48.046 million units officially sold in Q3 2015.
2017 to be a 'breakout year' for Apple Watch
In the just ended Holiday quarter - traditionally Apple's strongest - the investment firm expects Apple to have sold between 75 and 76 million iPhones. In comparison, in the same period a year ago, the company recorded iPhone sales of 74.468 million, so if the actual results are close to the predicted ones, it will be a flat quarter for Apple.




Finally, the firm predicts

Apple Watch

sales will stand at around 6 million in the Holiday quarter ending December 2015. This would be a remarkable result, and even more so, Munster boldly predicts 2017 to be a "breakout year" for the Watch: he expects 20 million units to ship in 2016, and 40 million more in 2017.