Pioneer? The best prerelease 'early access' games for Android
1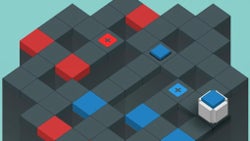 After Google allowed almost-done, beta apps and games to be posted to the Play Store, it is slowly getting populated with "early access" titles that are either finished, and counting on user feedback to tweak the content before version 1.0 is released officially, or with minor bugs which the developer hopes to catch beforehand.
It's a great program with some pretty little gems hidden from plain sight when you search Google Play. That is why we've rounded up a few of the best so-called "early access" games we could find, to test your pioneering spirits, and show you what's coming down the Android gaming pipeline that is proving so prolific these days that it's hard to separate grain from chaff.
After lurking in the iOS shadows for a while, Rubek is getting to Android. It's an inventive puzzle game that will have you printing colors on cube sides, and then trying to match those sides in a maze going forward. It's like a Rubic cube on the run, and, at a 50% off while in early access, is shaping up to be a pretty challenging brain-twister worth your dough.
This yet-unreleased dungeon shooter has a fun 8-bit 80s atmosphere that lets you explore around a dark dungeon, shoot plenty of bad guys with increasingly sophisticated weapons, all on the quest to find the magic stones, and accompanied by your trusty cat.
In this physics puzzle, you get to be a snail, but way faster than your average one slugging it through the grass. Called Speedy, it will challenge your mind and creativity while you draw and craft different shapes to help it escape in 8 chapters with 240 levels. Needless to say, there are prizes to be collected on the way, and snail skins to be swapped, if you are a good boy, and help Speedy out of the mazes.
Annotated as an 'arcade battle game with elements of TowerDefense and RTS,' PigBang is an online multiplayer game with boars, on a mobile. Yep, that's it - you are a member of pack of boars, and have to defend your ground from wolves and your water supplies from encroaching pig gangs. Not hogwash, that's the actual premise of the game, check it out.
Dubbed a "pocket-sized RPG," Postknight is optimized for mobile in the sense that the huge hours-long quests are chopped into bite-size pieces. The Postknight adventure is what it says on the tin - you are a tiny knight who has to make important deliveries with a lot of obstacles on the way, and a bunch of interesting characters he would encounter while exploring the kingdom of Kurestal, and the vast areas around it.