Photo-realistic painting of Morgan Freeman done on an iPad
58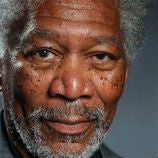 There is a constant debate happening right now as to whether or not tablets have the proper professional tools to truly replace traditional PCs, and it looks like artist Kyle Lambert lands firmly on the side of tablets. Lambert has created an amazing photo-realistic painting of Morgan Freeman using just an iPad, the app Procreate, and his finger.
To be fair, it also took Lambert over 200 hours and over 285,000 strokes to complete the painting. And, for those skeptics out there, Lambert also used an in-app recording function of Procreate to make a time-lapse video of the entire process. The video is amazing, because as you watch, you may have the thought, "oh that's good enough" a couple times, but Lambert continues to add texture and lighting until it really is photo-realistic.
There are those who think this may just be a marketing stunt for Procreate, and it may well be. But, if it is, it is one of the better marketing stunts you can pull off, because the results are incredibly impressive. Lambert is an artist from England who has experience with realistic paintings and more of his efforts can be found on his website.