PhoneArena's Retro-Rewind: Samsung SPH-N270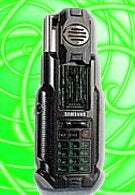 Even though the Nokia 8110 was widely available by the time 1999 rolled along when a movie called The Matrix came about, that device might've had a part in the creation of the Samsung SPH-N270. Aside from seeing the cast of Matrix characters use it in the second movie, the spring loading action of the device easily stands out as the most recognizable feature of the Matrix phone – it made you look at it intently as the earpiece pops up into place to answer a call. Despite having some face time in the movie, the actual handset didn't receive too much of a marketing campaign by Samsung. You'd think they'd be swift in getting an actual production unit in place to possibly meet the demand that could be generated by the movie, but instead, the Matrix phone didn't embody some of the features during that time that were considered as high-end.
pixel
display with support for 65k colors, aGPS, voice dialing, 1000 mAh battery, green colored numeric keypad, and having sole compatibility with Sprint's network. There really wasn't anything breathtaking about its specs – it didn't even offer Bluetooth or a camera; which of course was seen on other phones during that time. Fans of the movies were treated to some Matrix related content with the handset – like the ever popular digital rain background found in its menus and the collector's tin.
By no means was the Matrix phone considered a success from a financial point of view – especially when Samsung commissioned to only produce a total of only 10,000 units. It still remains unclear to this day if Samsung ever did produce its target amount as serial numbers clearly found on handsets being sold on eBay and other web sites never exceeded 2,500 – which of course would make for one rare find. Initially sporting a price tag of about $500, that amount is obviously nowhere near to its current value due to its limited status – it has been seen that it could be fetched for more than $1,000.
Even though it might not have been a financial success, the Matrix phone clearly makes a point on how one device will forever be remembered being tied to a movie – and nothing else more than that. The Matrix phone is truly unique on its own mostly thanks to its distinct characteristics and on-screen time with some of our favorites characters from The Matrix Reloaded.
Samsung SPH-N270 Specifications