PhoneArena Portal: CES Unveiled New York
1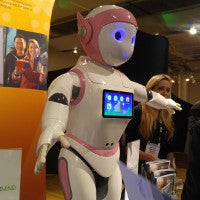 Crazy to believe, but CES 2016 is roughly less than a couple months away. We're not even through the busy holiday season, and here we are thinking about the madness of CES. In New York City yesterday, the show's annual CES Unveiled event took place – where companies previewed its existing product line. Most of the stuff being shown off at the event, however, are things we have seen before and are intended to be sold during the holiday season. Nevertheless, we still came across some new products.
Not surprisingly, there was a huge presence of drones and virtual reality gadgets at the show, but the majority of them were mostly the same products we've seen. All of the really cool stuff were placed behind glass, the ones that were given innovative awards from the folks over at CES. One of the more interesting of the bunch was the Somabar, this giant sized contraption that looked like it consisted out of several water filter pitchers. Specifically, it's an in-home, personal bartending system that can whip up a mixed cocktail using the accompanying app. Other innovative awards went to the Samsung Galaxy S6
edge+
and the Lenovo Yoga TAB 3 Pro for their innovative qualities – like how the Yoga TAB 3 Pro features a built-in projector.
Although the majority of the products being shown off at CES Unveiled weren't really new, there were a few that stood out from the bunch for us. The first being the Skulpt Chisel, which is a follow up to the Skulpt Aim from earlier this year. Basically, it's a portable gadget geared towards fitness conscious users who want to measure body fat percentage and muscle mass. This new, updated version doesn't come with a screen, but is now completely controlled via the companion app through Bluetooth connectivity. Other new changes include a significantly longer battery life, which means less charging in between sessions. Right now, it can be fetched for $89 for the first 500 supporters on Indiegogo – or $149 normally.
The second thing that stood out to us were the new FLIR One cameras. Previously, the company produced a FLIR One case for the iPhone exclusively, which allowed it to see various heat signatures. With this new line, however, it's now an attachable camera that makes it a bit more versatile to use. Best of all, they've expanded support to Android devices because there's a model with microUSB connectivity – in addition to the Lightning connection for iOS devices. Right now, they can be fetched for $249.99
And lastly, we caught a glimpse at Adidas' latest smart connected products. The first being a smart soccer ball that gathers information and sends it to a mobile device, and the second being the miCoach Smart Run
fitness tracker
. It works in the same capacity as most other fitness trackers, but places emphasis on its real-time cardio and strength coaching. If you're interested in it, just know that it'll set you back $300.
That's about it for CES Unveiled, so make sure to check out the video below to see some of the gadgets in action!
CES Unveiled 2015