Pew Research: Mobile connectivity survey highlights defined smartphone etiquette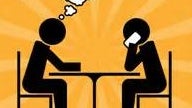 Smartphones may be integral to our daily lives, but that does not mean they are not viewed upon with some measure of contempt.
Pew Research conducted a survey of 3,217 Americans, of which, 3,042 were cellphone users. Despite being always on, and always connected, the survey revealed distinct views about when it is okay or not okay to use their cellphones.
Initial findings of the survey were published earlier in the summer. What is interesting is that the results of the survey will probably not surprise you. The majority of respondents said it was okay to use a cellphone while walking down the street, while riding on public transportation, or while waiting in line somewhere.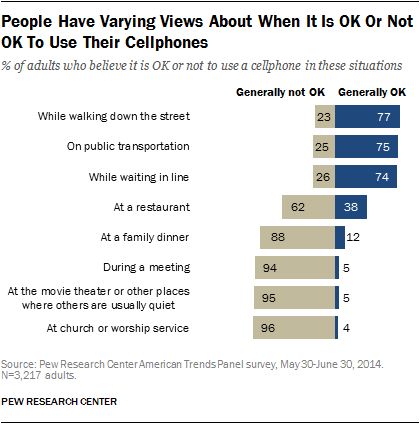 The shift of what is deemed appropriate use is when it comes to restaurants, family dinners, meetings, and attending church. The restaurant arguably had a bit of wiggle room, with 38% thinking that it is okay. However, if you are going over to mom's for dinner, or getting ready for the movies, you better keep your phone stowed away.
The panel was also asked about how mobile phone use impacts group interactions, 82% said it "frequently or occasionally hurts" the situation. Despite this, 89% say they used their phones during the most recent social function they attended.
The younger the respondent, the more acceptable it was to use a phone in just about any setting.
source:
Pew Research
(Twitter)