Perfect fit: alleged iPhone 5 parts align nicely into its purported chassis
12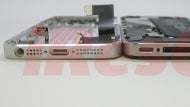 The Apple gadgets repair company that leaked some sixth generation iPhone parts last week decided to put them together and see if the shoe fits. Turns out that the dock connector and headphone jack cable that it acquired snuggled perfectly around the screw placing in the chassis obtained earlier.
"
One of our technicians was even able to screw the assembly into the pre-aligned screw holes inside of the frame. All of the threading and screw holes lined up perfectly with the screw holes in then docking port/headphone jack assembly,
" says the iResQ gang, and indeed those seem to be a match made in heaven... uhm, in Foxconn. They do warn about a few issues, though, since these are most likely engineering prototype parts:
1. The "iPhone 5"' frame/back casing that we have in house is an incomplete part (it is a shell that should be filled in with more parts). This means that there are some missing plastic gaskets and fittings inside of the back casing that should fill in the tiny gaps between the docking port and the headphone jack in relation to the frame. So the gaps you see here should be filled in with the completely assembled back casing when it is released.
2. From what this looks like, the speaker will fit inside of the new iPhone similar to the iPhone 4 and 4S. Because of this, we expect the new iPhone to have just one speaker like the current models.
Have look at the assembled sixth-gen iPhone in the slideshow below, it is being sized up with the current
iPhone 4S
edition of Apple's finest.
Recommended Stories