Patriots coach Bill Belichick proclaims he's done with the Microsoft Surface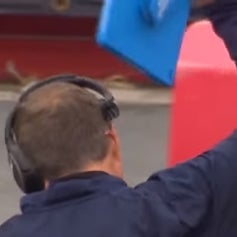 Back in 2014, Microsoft and NFL negotiated key spots for the Surface tablets within the sports organization. At matches, they can be found in the hands of coaches, players, and occasionally being smashed to bits in anger outbursts. As it turns out, sometimes Microsoft's Surface slates have been asking for it. During a conference call today, Patriots coach Bill Belichick (pictured before bashing a Surface tablet in a wall) announced that he's done with the tablets and turning back to printed photos to do his job.
"There's just no consistency."
- he explained, and added:
"I've given them as much time as I can give them. I just can't take it anymore."
Coach Belichick also complained that technology generally fails on the playing field:
"There are very few games where there aren't issues in some form or fashion with that equipment. And again, there's a lot of equipment involved, too. There are headsets in the helmets, there's the belt pack, that communication, there's a hookup or connection to internet service or that process and so forth with the coaches and the press box... and inevitably something goes wrong somewhere at some point in time."
Microsoft was quick to get back with a statement, saying it respects the coach's decision to abandon tablets, but the Surface tablet is reliable and there has been continuous positive feedback by coaches, players, and teams personnel across the league. As it isually goes, the truth is somewhere in between – while Belichick is obviously reluctant to adapt to current technology, sometimes a digital alternative to paper photos can turn out to be too complicated for its own good.
ALSO READ