Patently ridiculous: Apple hit with a lawsuit because its iPhones can... make calls and take photos
72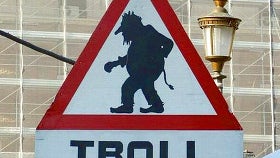 Patent trolls are nothing new at this point, and plenty of companies have fallen victim to their relentless onslaught. Specifically, smaller companies that can't afford a legal defense that can easily suck their lifeblood (read: money), often settle outside of court to just make it stop. And the worst part is that, for the most part, patent trolls would have lost the case in the end.
Of course, every now and then, patent trolls get real cheeky and go after the big guys—not to imply that large multinationals are necessarily blameless. Just a few days ago, a patent troll going by the name of Corydoras Technologies LLC, which first hit Samsung a few months back, is now suing Apple for patent infringement. The allegations? Among others, that some 20 Apple products across the iPhone and iPad lines are capable of voice and video communication, can block unwanted calls, have a camera on the same side of the display ("a digital mirror"), can display the geographic location of the user, and can send and receive... e-mail.
The patents that Corydoras Technologies claims are infringed upon were apparently acquired from Japan, according to
Patently Apple
. The suit was filed on May 20 in the Texas Eastern District Court, the Presiding Judge is Rodney Gilstrap. The choice of state is no incident, as Texas is notorious for its favorable treatment of patent trolls. In 2014, Apple lawyers revealed that the company is
a top target and has been hit with over 90 lawsuits over the preceding 3 years
. The below screenshot of Corydoras Technologies' website ought to make it clear that what Apple will be dealing with is, indeed, more of the same.

The entirety of Corydoras Technologies' website.
While we're far from legal experts and we're nowhere near calling the shots on this one, it's probably fair to say that patent trolling in the States continues to be a major issue.
Recommended Stories