Patent filing reveals Smart Modular Bands for the Apple Watch
21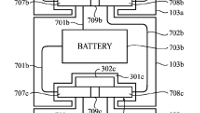 A patent application filed by Apple in February 2015 and titled "Modular functional band links for wearable devices," gives us a clue about how Apple intends to add functions to its intelligent timepiece. Users will be able to purchase these smart modular bands, which would be embedded with the appropriate technology and links, and snap them into the device's diagnostic port.
By offering this accessory, Apple won't have to introduce new hardware every time it wants to add certain features to the Apple Watch. Some of the potential features listed on the patent application include additional battery power, a blood pressure monitor and thermometer, GPS module, speakers, a camera, and a module that measures the amount of sweat generated by an Apple Watch wearer.
The patent application doesn't reveal when we might see these bands offered to the public. Last month,
Apple introduced some new bands for the Apple Watch
while lowering the starting price by $50 to $299.
source:
FCC
via
AppleInsider