Patent filing predicts ultra-slim devices from Apple
12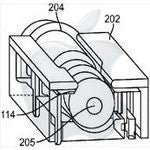 The
iPad 2
, the
iPhone 4
, the iPod nano, and the MacBook Air – they are all quite slim, aren't they? Well, the patent filing by Apple, which we just came across, is good enough of a reason to think that consumers have not seen anything in terms of thinness yet. The patent filing application describes several ways of implementing a 3.5-millimeter audio socket into any of Apple's future devices, which happen to be less than 3.5 millimeters (or about 0.14 inches) thick.
It is almost certain that the industry-standard 3.5-millimeter jack – the one that you see on your earbuds and a plethora of other earphones, is not going to be replaced anytime soon. That is why Apple has come up with three simple, yet promising methods of having a fully compatible 3.5-millimeter socket on its future ultra-slim devices. One of them leaves an opening on the socket and allows one side of the headphone jack to protrude over the device. Another suggestion adds hinges to the socket, which would flip upon the insertion of the jack and therefore allow it to stay firmly connected. The third, probably most sensible and high-tech solution, is partially covering the slot with a "semi-flexible material" that would extend when the plug is inserted. Check the image below to see how these three "low profile plug receptacles," as Apple calls them, might look like.
Nobody has mentioned whether Apple is already developing devices that will take advantage of the port designs or not, but it will surely be quite an event if they eventually come out. Seems like the iPod nano and the iPod shuffle are the most suitable candidates for the innovation, yet one day the future iPad and iPhone models might also be treated to a slimmer and sexier look.
source:
reghardware