Parrot MK6100 car kit does it all
1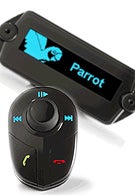 The MK

6

1

00
can be considered as the successor of the both
MK
6
000
(the Parrot's first A2DP Stereo Bluetooth kit) and the
CK3

1

00
, which is their most popular and best-selling model. The new 6100 combines the small and convenient OLED display from the 3100 with the A2DP support and the music-control pad from the 6000 to make a device that's good for music as much as for talking. The two parts (display and music-control) are separate modules and the display is even detachable from its support, for security purposes when you leave the car.
The MK6100 offers DSP (Digital Signal Processing) and features dual microphones (Parrot Beamforcing technology) for stronger performance. Once it is paired with your phone, the device automatically synchronizes the names from your phonebook and so you can dial one from it. In order to keep your eyes on the road, Text To Speech system will Read the names of the contacts for you. In addition, voice dialing is also supported.
According to Parrot, the MK6100 will be available in the second quarter of the year.