Pantech TXT8040 for Verizon passes the FCC
This article contains unofficial information.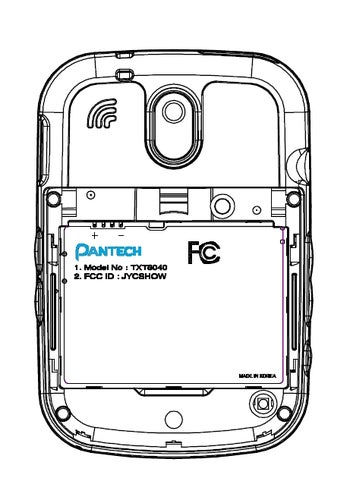 Pantech Blitz TXT8010
was released by Verizon in 2008, it was an kid-friendly messaging phone with sliding QWERTY keyboard. Then it was followed a year later by the
Pantech Razzle TXT8030
, but this time the bottom twisted 180 degrees, with one side having a QWERTY keyboard, and the other side having speakers and music player controls. Now it appears the
TXT8040
will be the next messaging device from Pantech for Verizon, as it recently passed the
FCC
. The only image avaliable is a drawing of the back with FCC ID Label, but it doesn't appear that the phone will twist this time, so it might be a candy-bar, another slider (like the Blitz), or maybe have a rotating display like the
TXT8020
that was never released. We will keep you posted when we learn more, and we'll be on the look-out for the Pantech TXT8040 at CTIA this week.
Pantech Blitz TXT8010 Review
|
Specifications
Pantech Razzle TXT8030 Review
|
Specifications
source:
FCC