Pantech Link II hands-on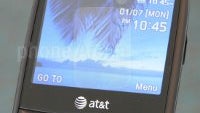 More than a year and a half after
reviewing the Pantech Link for AT&T
, we're on the verge of finally seeing its successor coming out of hiding packing all the lovable aspects of a quick messaging device. Bringing it back for another round, the
Pantech Link II
for AT&T retains the same exact portrait QWERTY form factor of its predecessor – while still being maintained as an
affordable
quick messaging device.
Honestly, it's very difficult to seek out the difference in design with the Pantech Link II because it seems to be an
exact facsimile
to its predecessor. In fact, it's still constructed out of plastic entirely, which enables it to keep such a slim figure. Obviously, it doesn't try to hide the fact that it's going to be an affordable messaging phone. Again, it features a portrait style keyboard that we actually find very usable in the short time of checking it out. Sure it can be cramped for those with smaller digits, but they're
raised
enough to be perfectly distinguished by our fingers – and it helps that presses are accompanied with a decent
tactile
response.
Not surprisingly, we're not too concerned about its washed out looking 2.4" display, but then again, it's simply there to get us to navigate through the hassle-free and straightforward
BREW MP
experience. As a messaging phone, it's quite transparent that the Pantech Link II will fill on the void perfectly thanks to its keyboard. Plus, for a mere
$9.99 with a 2-year contract
, there won't be too many people complaining about its cost of ownership. As we see it right now, it's a safe assumption to say that most people might mistake the Pantech Link II to be the BlackBerry of quick messaging phones, but we'll be the judge of that in the end.