Palm unveils 'Enyo' SDK for multiple form factors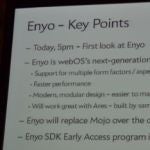 In case you haven't noticed, all the past and present Palm devices, like the
Pre
,
Pixi
, and
Pre 2
, are based on a singular framework: a physical keyboard with a portrait screen. In preparation for the slew of
new Palm devices
coming in 2011, Palm has unveiled their new SDK (software development kit) that will accommodate the variety of new form factors.
The software, which was previously known as 'Ares,' will now be known as 'Enyo'. The classics majors will know that Enyo is the sister of Ares, and the goddess of war. The most exciting feature of Enyo is its compatibility with the different Palm devices. The same app will be able to function on a traditional portrait/QWERTY device, a tablet, and a
touchscreen-only
device. You can check out the email app adapting to its frame at 15:55 in the video below.
Aside from its scalability, Enyo is reported to deliver significantly faster load times, which are supposedly about 1 second. The SDK will be available to developers in early 2011, likely soon before the launch of their new devices.
Palm and HP
are optimistic about their new offerings. When asked about the projected popularity of
webOS 2.0
, Palm said it would be far more marketable once there were more devices to showcase it.
HP currently occupies 10% of electronics shelf space. Palm's Phil McKinney said that they plan "to play an important part of that shelf space." It sounds like HP is making good use of their investment, and we couldn't be more excited.
source:
Palm (YouTube)
via
Engadget