Palm name out & the HP branding will continue the legacy
11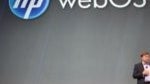 For a while there, some people were optimistic about the Palm name living on with future devices; despite HP's acquisition of the long time smartphone/PDA company. Even today, word has it that the
Palm Pre 2 will be coming to the US starting tomorrow through Verizon Wireless
.
However, that's looking to be the last time we'll be seeing that name used with any future webOS device because the brand name Palm was pretty much MIA during HP's special event today. In fact, every portion of the event showcased the HP branding without the subtle instance of Palm's name being mentioned.
From the HP TouchPad to the HP Pre 3, we utterly see the once formidable name no longer breathing life in any of the devices announced today. Regardless of that, it was inevitably only a matter of time before HP 's name would solely highlight products from their camp.
Naturally, we'll look back at the Palm's history and realize that they've made their mark since their brand recognition is still moderately known around the world. So, we'll all push forward and now that HP is committed to webOS, they'll undoubtedly continue the legacy established by Palm.
via
PreCentral