Palm losing streak reaches 7 consecutive quarters
20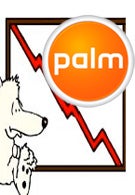 For the seventh consecutive quarter, Palm reported a loss. The third quarter of the fiscal 2009 saw the company report $95 million of red ink which works out to 89 cents a share, up from a loss of $54.7 million dollars or 53 cents a year earlier. Part of the problem is that buying of Palm products has dried up in anticipation of the launch of the Palm Pre. Since the smartphone was
introduced at the CES in January
, it has garnered the largest pre-release buzz for a cellphone since the original iPhone. As a result, customers have been waiting for the device to hit the stores and have slowed down their purchases of Palm devices dramatically despite the
introduction and release of the Palm Treo Pro
, a Windows Mobile smartphone loaded with features and with pretty design. The quarter might have been better if not for the saga of the Treo Pro. The handset was expected to hit Sprint stores in late January, and then by mid February in time to have some impact on the quarter.
But delays kept pushing back the release of the phone
and by the end of the period, only
Canadian carrier Bell had released the device
in North America. The Pre is considered the last chance for Palm to become relevant again after nearly disappearing from the cellular scene. Earlier this month, we
reported
how the carrier was able to raise cash and pay off a debt to Elevation Partners by exercising an option to sell 18.5 million of their shares held by Elevation for $105 million dollars. After repaying $49 in debt to Roger McNamee's firm, the balance went to Palm to improve liquidity. After all, marketing a high profile device like the Pre is going to take plenty of money. And Palm isn't the only firm with much on the line here. Networker Sprint is supposed to
have the exclusive U.S. rights to sell the Pre for the rest of the year
. Will Palm continue to post losses every quarter, or will the Pre help the company post black ink? We're not sure what the record for consecutive losing quarters is, but we are sure that is not a record that Palm wants to own.
Palm Treo Pro Specifications (CDMA)
|
Review
Palm Pre Preliminary Specifications
|
Hands-on
source:
N.Y.Times