Palm in the works with a 4G handset for Sprint?
This article contains unofficial information.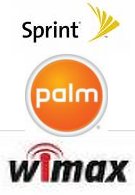 As we've seen ushered by many analysts and people familiar with the industry, it seems like everyone is unanimous in seeing Palm release a new handset to combat their struggling woes. After their stock had been
downgraded
and
expectations
were not in line with their recent Verizon launch, it appears as though Palm might once again partner with Sprint in releasing their latest handset. Sprint of course already beat everyone to the punch in the 4G race by having their next generation network up and running in a handful of markets already, but some analysts see the idea as being risky – claiming that Palm wouldn't throw all of its eggs in one basket when it comes to the future and embrace of the WiMAX network. Instead, analyst would rather see them update their existing 3G enabled handsets with larger touchscreens and focus on moving its distribution towards AT&T as a potential game saving move. Aside from the hardware aspect, it may also seem that Palm will really need to focus on their webOS platform and tweak it enough to make the experience seamless and innovative. With so many new mobile platforms expected to hit the market, Palm will need to revamp its own platform and keep it fresh enough to be adopted by new customers.
source:
Computerworld
via
BGR