Palm Treo Pro to be manufactured by HTC?
7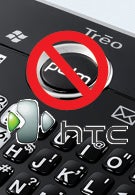 A few years ago, HTC was not popular as it manufactured the phones, but distributed them under various other brands. Nowadays, it is trying to become one of the top dogs. However, it seems that it still doesn't regret making phones for others, including its rivals. As the latest rumors claim, it is not only the Sony Ericsson XPERIA X1 but also the Palm Treo Pro that HTC will manufacture and sell under anоther brand. According to "sources at handset vendors", Palm has chosen HTC over Inventec, which is its biggest ODM partner, for its experience in manufacturing Windows Mobile phones. That's not a bad thing at all, and we are pleased with what HTC offers, after all, it's the leader in this class.
Palm Treo Pro has the typical for Treo quadrangle display and QWERTY below it. It is a Windows Mobile 6.1 GSM smartphone with 3G, Wi-Fi, GPS and is targeted as a business-only handset. Treo Pro is expected to be in stores starting next month.
Palm Treo Pro Specifications
source:
digitimes
via
EngadgetMobile