Palm Pre to debut on Survivor?
19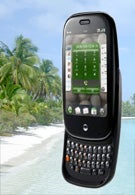 There certainly has been plenty of talk online about when the Palm Pre will be released. Many of the dates picked by so-called experts have already passed with no sign of the "iPhone killer". A thread on the Sprint Users forum suggests that the Pre will be available on the Sunday that Survivors' two hour final episode will play, which is May 17th. According to the post, the device will actually appear in the Thursday episode (May 14th) before the finale and be heavily promoted in the three days leading up to the release of the Pre. As we've
reported
, the handset will be available in the U.S.exclusively at Sprint for the balance of the year. If this is true, the phone's premiere on Survivor would be very appropriate because for Palm to continue to survive as an independent company, the device must live up to the incredible buzz it has created since being
introduced
at the CES earlier this year. There has been
talk
of the company being acquired by Dell as a quick way for the computer company to enter the smartphone business that it strongly seems to desire. Sprint also has a lot riding on the success of this phone as the carrier faces other networkers with strong selling models.
Palm Pre Specifications
|
Hands-on
source:
Sprintusers