Palm Pre 2 Hands-on
5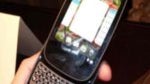 With almost a year and a half under its belt, the once fresh and relevant Palm Pre is clearly beginning to show off its age as we've seen it slowly becoming more of a distant memory than anything else. Happily, HP Palm recently unveiled their followup successor with the Palm Pre 2 which has some notable improvements under the hood with its updated webOS platform.
On the surface, the Palm Pre 2 doesn't differ too much from the original's design and feel – which is honestly the safe approach with any succeeding device. Compact by default, this portrait sliding QWERTY handset boasts some minor elements, like its Gorilla glass display, that make it feel slightly more solid in the hand. Although it might not retain the original's polished stone look, the handset employs more of a flat surface with its touchscreen and is hugged with a bezel – both of which give off a distinct look to the somewhat unchanged handset. Another notable change is that Palm removed the plastic cover for the microUSB port and now keeps it exposed.
The sliding mechanism feels fairly responsive and reveals the all too familiar cramped Pre keyboard. Thankfully though, Palm improved the tactile feel of its buttons, but it still doesn't feel as good as the one found with the Palm Pixi or even Palm Treo Pro. Regardless, existing Palm Pre users won't have too much concern when adjusting to the keyboard on this device.
In the rear, Palm decided to increase the camera from a 3-megapixel shooter to a 5-megapixel one. From what we were shown, it still retains that lightning quick response in taking consecutive photos without much pause in between shots. However, it should be noted that it's not an auto-focus camera, but simply, a usual fixed focused one.
Under its plastic housing, the Palm Pre 2 is powered by a 1GHz processor which makes everything you do in webOS 2.0 pretty responsive and without much slowdown. Some of the notable new features found with the updated platform include the ability to stack several cards on top of one another which makes for some improved organization. For example, you can launch the email app and click a hyperlink within it, but instead of opening up a separate card, it'll stack it on top of the email app so you can quickly navigate between them. Obviously, it'll greatly improve the usability of the platform when you're trying to juggle around multiple items at once. Additionally, webOS 2.0 also exhibits an improved search function which can be accessed instantly by typing on the keyboard. Naturally, it'll search for relevant content on the handset, but it'll even include other noteworthy suggestions from various searching engines.
All in all, the unit that we checked out, which is still a prototype and not a final production unit, follows accordingly to what a successor should do. Although it's gong to be available shortly through SFR in France, there is no indication on a time frame when Verizon will launch the model.