Pac-Man Kart Rally is set to offer local wireless multiplayer action to Windows Phones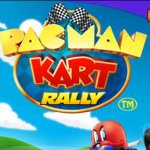 The race for supremacy in the mobile gaming market is surely heating up, and with that,
Microsoft
is planning to be a profound figure in it. As we continue to see additional Xbox integration with some of the games for Windows Phone, Microsoft is simultaneously trying to get hardcore gamers to converge together in using its Windows Phones.
Fortunately, things are seemingly starting to ramp up, as
Pac-Man Kart Rally
is reportedly the first Xbox Live game for Windows Phone to feature
local multiplayer gaming
, which is something that a lot of people thought would've been available since the launch of the mobile platform.
Specifically, the game will allow players to
play against one another via local Wi-Fi
. With the faster connection, it seemingly would offer instantaneous action, so that the experience won't be marred by any slowdown or lag.
So far, it's speculated for Pac-Man Kart Rally to arrive this coming Wednesday,
May 2nd
. Indeed, it's a great feature to have for those looking to be a bit more social when it comes to playing games. On the other hand, gamers can also anticipate
Sonic the Hedgehog 4: Episode 2
, which brings forth the cool feature of continuing the action at home on an Xbox 360 console.
source:
WP Central
&
Play XBLA