PSA: Only the Pixel XL gets 18W charging, but it might not matter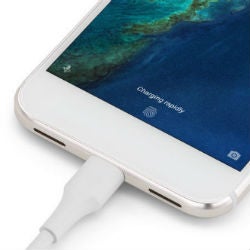 It looks like there was a bit of a typo in the marketing materials for the Google
Pixel
in regards to the wattage of the charging adapter. The listings for the Google Pixel had been saying that the charger was 18 watts, but that appears to be wrong and that the phone actually ships with a 15 watt charger. The difference was noticed by mechanical engineer Nathan K., who tested the Pixel charger and found it never drew more than 15W of power.
Google has admitted that Nathan is correct. The Google
Pixel XL
does charge at 18W and Google has updated the spec sheet for the smaller Pixel, but hasn't commented on why there is a difference in chargers. And, the difference might not make much difference in terms of charging time. The 18W charger for the Pixel XL may charge the device about 20% faster if it were to be constantly charging at peak speeds (which is rare anyway), but because the battery is also 20% bigger than the Pixel, the difference washes away.
The reigning theory is that Google had concerns about heat while the device was charging and so limits how much power it pulls. According to Nathan K, you should be okay even if you use a difference charger, because the software of the Pixel "prefers" 5 volt/15 watt, but can and will handle 9v/18W "when absolutely forced."