Ouya Android game console arrives on Kickstarter, if funded will arrive in March 2013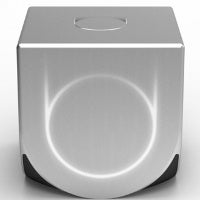 Just a couple of days we heard about
Ouya
, the first completely open game console that's running on Android, and now it's almost a reality - it arrived on Kickstarter aiming to raise $950,000, and for the few minutes we spent browsing the project it managed to raise an amazing over $30,000, so it's definitely got huge traction.
But let us first explain what Ouya is. As we said it's a completely open game console, runs Android, has some top notch hardware packed inside and has state-of-the-art industrial design by Yves Behar. Also, it's extremely affordable - it costs less than $100 with an included wireless controller.
The silvery box connects to your TV via an HDMI cable and gives you access to all the games in the Android ecosystem, but it makes the deal even sweeter - all games are free to play or at least to try before you buy. There's no blind shopping and regrets, it's all as it should be in this day and age.
Tegra3 quad-core processor
1GB RAM
8GB of internal flash storage
HDMI connection to the TV, with support for up to 1080p HD
WiFi 802.11 b/g/n
Bluetooth LE 4.0
USB 2.0 (one)
Wireless controller with standard controls (two analog sticks, d-pad, eight action buttons, a system button), a touchpad
Android 4.0
Ouya is more than the traditional game console, if you don't understand yet - it's a whole new system getting rid of all third parties making those console games crazy expensive. Being completely open means no licensing fees, no retail fees, and no publishing fees. If you're a developer we would be equally excited about this project.
Hit the source link below to make your contribution and expect to get your Ouya in March 2013, if everything goes as planned.
source:
Kickstarter
via
Engadget