Orangutans to use iPads, video chat thanks to Apps for Apes project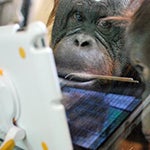 Clearly it's Friday, when the hard core tech stories give way to the human interest stories. Only in this case it's an ape interest story. Early success at introducing tablets to orangutans in the Milwaukee County Zoo has inspired the non-profit organization Orangutan Outreach to launch a drive called Apps for Apes, which aims to not just equip the primates with mobile devices, but allow them to hold "play dates" with individuals in other zoos via video chat.
The Apps for Apes program allows people to donate used iPads, which are then distributed to selected zoos. The program has apparently been quite successful, and the plan is now to introduce WiFi to many of the orangutan enclosures to enable video "chat".
This may sound a little to "Plant of the Apes" to you, but orangutan handlers are excited about using the tablets as a form of enrichment, as great apes frequently exhibit signs of boredom or even depression if not given something to do in zoos. Orangutans in the Milwaukee, WI pilot program enjoy digital paint apps, playing favorite songs (Twinkle, Twinkle Little Star), and watching videos of other orangutans. In other words, teach them how to post status updates and it's more or less the same way most of us use tablets.
While enriching the lives of the animal's is an important goal, Orangutan Outreach will also be making the video play dates available online for humans to watch (talk about your invasion of privacy!), in an attempt to help teach us about the individuality that orangutans can exhibit. Even in video watching there are apparently many differences; at the Milwaukee County Zoo a young orangutan named Mahal is reported to enjoy videos of penguins, while his mother has a preference for David Attenborough wildlife documentaries.
Perhaps she expects to catch a glimpse of a relative?
source:
Yahoo News
via
The Verge