Orange demonstrates Sound Charge t-shirts that power your phone
4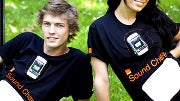 Just when we thought
sound wave harvesting to create electricity
and charge your phone is still in the research and development stage, Orange UK came up with t-shirts, of all things, which do exactly that.
Called
Sound Charge
, the garments use piezoelectric film in the front, which transfers the sound waves via membranes to electricity. The generated current charges batteries embedded in the t-shirt, which, in turn, can power your cell phone.
The Sound Charge gear can collect enough juice to charge a smartphone over two days of normal 80dB street noise. The shirts will be demonstrated at the Glastonbury festival in the summer, and we are sure all that rock'n'roll blast will guarantee a much faster charging time.Testing will be happening around the Spirit of 71 stage, to determine which kind of performance is best for charging.
Tony Andrews, co-producer of the Spirit of 71, has said: "
Sound vibrations, particularly bass frequencies, will create enough shaking to produce electricity from a material as simple as piezoelectric film."
Great solution for those three day festivals, but the t-shirts better have the names of the bands on them, for dignity purposes.