Oppo R9 and R9 Plus officially unveiled: the most blatant, shameless iPhone clones we've ever seen
35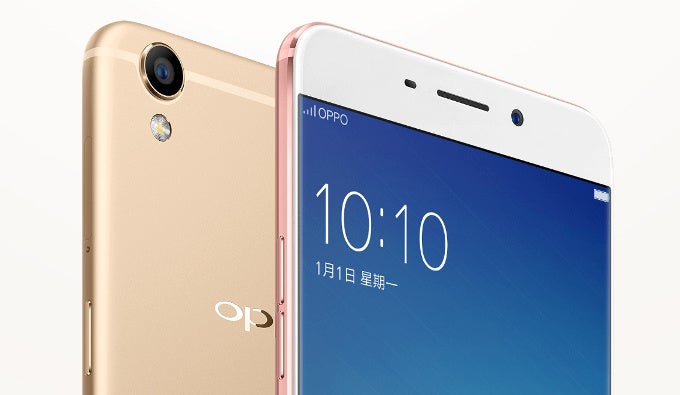 If you live in the United States or Europe, chances are you have never heard of Chinese phone maker Oppo, unless you are really into niche Asian phone makers. Still, Oppo is big in China: in fact, it finished 2015 as the world's 8 largest phone makers, beating Sony, BlackBerry and Microsoft with its Lumias in this ranking. Oppo sold a whopping 50 million phones last year.
Now, Oppo has just unveiled its two new flagship phones for 2016: the Oppo R9 and Oppo R9 Plus.
...and they are shameless, blatant, downright offensive iPhone clones. We have seen other Chinese companies copy Apple, but never have we witnessed such bold, impertinent cloning. In fact, the only thing that we see is slightly different is the oval home key rather than a round one. That's it! The style, the buttons, the antenna bands, the colors, the protruding camera, the software, the website, everything about the new Oppor R9 and R9 Plus is about shameless copying. Even we, accustomed to all sorts of trickery in the phone industry, are downright shocked.
The most blatant, outrageous, shameless Apple clones
As we try to shake off the shock, let's make it clear that these devices will most certainly NOT be sold in the United States or Europe. They better not be, because we can't imagine a place outside of China, where these phones would not get a legal slap in the face, if Apple decides to initiate a lawsuit.
So what are the iPhone... err Oppo R9 and R9 Plus all about?
First, we are looking at 5.5" and 6.0" phones, made out of metal, with a thin body: 6.4mm on the R9 and 7.4mm on the R9 Plus. With very minimal side bezels, they also rock some fairly compact sizes given those screens.
Both phones support Oppo's quite original and awesome VOOC charging technology. Oppo is in fact one of the pioneers when it comes to quick charging, having introduced it some two years ago, and now it's perfected the formula with faster charging and a more compact wall charger that features protection from overheating.
Let's take a quick look at the specs for the two:
Oppo
R9
Oppo
R9 Plus
Platform
Color OS 3.0
Color OS 3.0
Dimensions
151.8 x 74.3 x 6.6 mm
145 g
163.1 x 80.8 x 7.4 mm
185 g
Display
5.5" 1080 x 1920 pixel
6" 1080 x 1920 pixel
SoC
Helio P10
up to 2.0 GHz
Snapdragon 652
up to 1.8 GHz
RAM
4 GB
4 GB
Cameras
16 MP rear cam
13 MP front cam
16 MP Sony IMX 298, 1/2.8" , f/2.0
16 MP front cam
Storage
64 GB
64 GB / 128 GB
Battery
2850 mAh
4120 mAh
Extra features
Phase-detection auto-focus
Phase-detection auto-focus
Obviously, the landmark feature is the design, but also the vast amount of storage offered in even the base model. The camera on the Oppo R9 Plus is highlighted as well, and both feature fast phase-detection auto-focus.
It's also worth pointing out that a 1080p screen on the 6" Oppo R9 Plus works out to pixel density of 367ppi, which will be sufficient for most, but still not as sharp as most recent phones.
What you should know if you import these phones
In case you are interested in importing one of these phones to the U.S. or Europe, you should know that they come with very limited 4G LTE band support. The only 4G FDD-LTE bands supported are 1, 3 and 5, meaning that you won't be able to make good use of most 4G LTE networks.
Color OS 3.0
Then, there is the new Color OS 3.0 custom overlay on top of Android that makes Android almost unrecognizable. It's an iOS inspired skin and that's especially noticeable in some places like the calendar and camera applications.
The pictures below provide quite a good idea of what Color OS 3.0 looks like, take a look.
Oppo R9 price and release date
Oppo is a premium brand in China, and you should not be surprised at the rather high price tag (for Chinese phones) that the couple gets. Here are the official prices in China:
Oppo R9 price is set at 2799 yuan ($430)
Oppo R9 Plus price is set at 3299 Yuan ($510) for the 64GB model
Keep in mind that if you import these phones via third party resellers, the prices there would be significantly higher.
Both the new Oppo R9 and R9 Plus will go on sale in China starting April 12th.