Only in Japan: KDDI's Spring collection brings a phone transmitting sound via vibration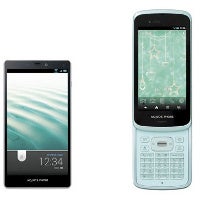 Japanese KDDI has just posted its spring selection of handsets and as always in Japan, it's a unique bunch that will probably never get released in other countries. What always strikes us about the Japanese market is its love for innovation and varying form factors - you can see Android phones with a T9 physical keyboard, a flip Android phones, water resistant devices are ubiquitous and it's just a whole another phone world out there.
This summer KDDI brings 5 new phones to its selection with three from the AQUOS series by Sharp, a quad-core Arrows Z ISW13F with a 4.6-inch display and the
"smart sonic receiver,"
the Urbano Progresso, which is the first phone we've seen transmitting sound through vibration.
The AQUOS lineup is all running on the latest Android 4.0 Ice Cream Sandwich, and one phone that really stands out is the rectangular simplistic AQUOS PHONE SERIE. Check out all of the new phones below and by just hitting the link below - it's in Japanese but you shouldn't really have trouble understanding the technical details.