Only in India: a Muslim phone tells you where Mecca is
67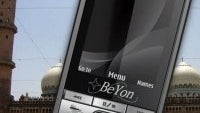 Now, we're not completely sure if the
Beyon I-Tel i786
is real. It looks like it (actually Google suggests it should be called the
Beyonce I-Tel i786
, but that would just be weird). If it is, though - then it's from a galaxy far far away. It is
the
phone for Muslims
.
What? Yes. Let us explain - it's not "just another feature phone." Tailor-made for faithfuls avoiding the iPhone, Androids or whatever other smartphone you can think of on the market for some reason, the I-Tel i786 is packed with features.
"The name of the mobile has been approved by leading Islamic scholars of India because [786] is a very auspicious number for Muslims […] And as corporate social responsibility, we are offering 2.5 percent as Zakat – a kind of Islamic tax – for an NGO that helps needy and poor Muslim children get an education,"
I-Tel said for tech blog Penn Olson.
Reportedly, those are
not just any features
- they're of course Muslim-centric. Some on the list include the Muslim Hijri calendar, a Qibla direction finder app (that points you to Muslim's holy Mecca), Islamic ringtones and wallpapers and a Halal meat guide among others. Now, we don't even remember the time when ringtones and wallpapers were cool (we try not to) and it seems adding direction to the Mecca on Google Maps would fit the purpose, so why would a separate phone with that appeal to anyone? This we don't know.
It's arriving in India of all places on
November 12th
carrying a pretty affordable $60 off contract price tag. Stateside release? Don't even ask.