An accessory that OnePlus 7 Pro buyers might need costs 62% more after price hike
20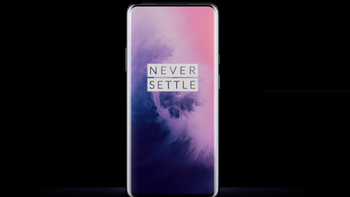 Last year's
OnePlus 6T
did not come with a headphone jack, but it was packaged with a Type-C to 3.5mm cable that allows users to employ the phone's charging port to plug in a set of wired headphones. If the dongle gets lost, it used to cost $8 (before taxes and shipping) to replace directly from OnePlus. The
OnePlus 7 Pro
also is sans a 3.5mm port, but buyers don't have to worry about losing the accessory because it isn't even included in the box. So if someone with OnePlus' latest and greatest wants to use a wired headset that requires a 3.5mm plug, they will have to purchase this dongle.
But
as some Reddit posters have discovered
(via
Android Police
), $8 is not going to cut it anymore. The Type-C to 3.5mm adapter is now priced at $12.95 on the OnePlus website. That is a 62% hike in the price of the accessory, which is made for the OnePlus 6T,
OnePlus 7
and OnePlus 7 Pro only. With standard shipping to the states, the price before tax is $19.94. Using priority shipping, which is two days faster, the cost is $22.94 before tax.

This Type-C to 3.5mm adapter was $8 before shipping and taxes last year
We discovered a vendor on eBay selling the Type-C to 3.5mm adapter for just $1.89 with free shipping, but the problem is that the OnePlus 7 Pro will not work with every adapter. We did find someone on the online auction site selling the OnePlus 6T dongle for $5.69 with free shipping, but there are only a couple of units left. If you have a OnePlus 6T and lost your dongle, or want one for your OnePlus 7 Pro, your best bet might be on Amazon where you can buy two Type-C to 3.5mm adapters for $7.99. This accessory does work for the OnePlus 6T, so it should also be fine for the OnePlus 7 Pro. After $5.99 for shipping, the pre-tax price is $13.98 for the pair.
Oddly enough, OnePlus' price for the dongle various greatly from market to market. In Canada, the price before taxes and shipping is equivalent to $14.81 USD, not too far off the price in the states. But in India, it sells for the equivalent of $5.54 USD and roughly $8.88 in the U.K. and Germany.