OnePlus One StyleSwap Covers to come in various materials, like kevlar and denim
7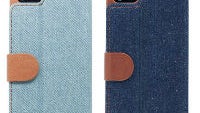 We still haven't seen the official pictures of the upcoming OnePlus One, though we have seen
sketches
suggesting an aluminum unibody design. OnePlus doesn't want to show us the real goods just yet, but it does have a very interesting unveiling for today. OnePlus is showing off what it calls StyleSwap Covers, which are... well, covers that can easily be swapped, and are pretty stylish.
The idea here is that OnePlus acknowledges that no matter how much time and effort a company puts into the design of the handset itself, many users cover up all that hard work with a case. So, OnePlus wants to offer options that are super stylish, but still offer durability and
texture
. The texture part is the more interesting feature, because OnePlus will be offering StyleSwap Covers in Silk, Sandstone, Denim, Bamboo, and Kevlar.
Of course, it should be noted that the use of the word "texture" is the key here, because the silk and sandstone options are not actually made of those materials, but simply made to feel like them. On the other hand, the denim, bamboo, and kevlar covers will be using those exact materials, which is interesting, because even Motorola didn't use real bamboo for its Moto X, but rather a wood that was treated to look like bamboo.
OnePlus isn't giving any word on pricing for the covers, but the post does leave questions about the design of the device itself. The sketches showed an aluminum unibody, but the post says that "Adding size and bulk to a phone for protection is a thing of the past." The questions is whether this means that the covers will completely replace the backing of the handset or if they will simply be very thin covers. If it is the former, it would certainly put into question the idea of a unibody design.