OnePlus 6T battery life test results: one of the best battery performers of 2018
57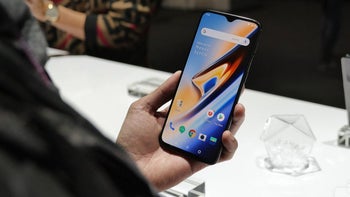 The
OnePlus 6T
might be a gradual update over the OnePlus 6 as both phones share a similar design, but there are two key areas where the 6T innovates that are worth your attention: the first is the in-screen fingerprint scanner and the second is quite simply a bigger battery. And that's important.
The new OnePlus 6T comes with a 3,700mAh battery, the largest OnePlus has ever put in one of its phones and considerably bigger than the 3,400mAh cell used in the 6. So is there any big difference in battery life that you should care about?

To understand this, we turn to our proprietary battery life test and the results show that indeed there is.
OnePlus 6T Battery Life
The OnePlus 6T scores a very respectable 9 hours and 52 minutes, more than most flagships of 2018, and certainly one of the highest scores for a phone with an AMOLED screen. That's an impressive OnePlus 6T battery life.
This score beats the iPhone XS Max, the Samsung Galaxy Note 9 and the Pixel 3 XL, which is great news for those considering the 6T as their next flagship.
The two phones the 6T loses to in our battery test are the incredible Huawei Mate 20 (not the Pro, which has a more average battery life) and the iPhone XR, both devices with more power-efficient LCD screens.
The other part of the battery equation is the time it takes to fully recharge a phone from 0 to 100%. The OnePlus 6T comes with the signature OnePlus fast charger and the red USB-C cable in the box, so you don't need to pay extra for that (cough, Apple, cough).
In the charge test, we see that the OnePlus 6T again excels and recharge in no time. It took it just an hour and 25 minutes to reach a full charge, meaning that you could forget to charge the phone overnight and still plug it in for a few minutes in the lunch break, and you will still get enough juice to get through the day. So this makes the OnePlus 6T one of the best phones in 2018 in terms of battery life and marks the excellent work from the OnePlus team on optimizing battery performance.
Meanwhile, we are actively working on our detailed OnePlus 6T review. Stay tuned for that, it's coming up soon!
Recommended Stories