OnePlus 6T Q&A: Your questions answered!
17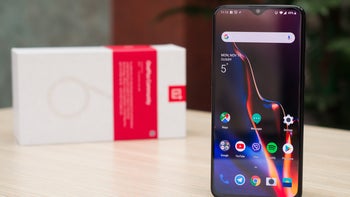 OnePlus has done it again: after coming up with the neat OnePlus 6 earlier this year, the company is now one-upping itself with the OnePlus 6T, a phone that's pretty much as contemporary as it gets. With a bezel-less design and a minimal notch that's ushered by the up-and-coming post-notch era, the OnePlus 6T is an important milestone as it's the first and hopefully not last OnePlus device to be available in the US. Add in the killer starting price of $549, and you are looking at one of the most lucrative offerings right now, bar none.
We usually host Q&A sessions with such interesting high-profile devices, and the OnePlus 6T is no different in any way. Roughly a week ago, we gave you the chance of asking us anything about the flagship, and now it's time to provide adequate answers!
OnePlus 6T Q&A
splus
: Can you unlock it with the in screen fingerprint sensor without first turning the screen on? It would be a major usability issue if you'd have to turn on the screen before unlocking it with the front fingerprint sensor.
PA
: You can't unlock the phone without having it light up your fingertip. If it's asleep and the screen is totally off, you have to double-tap or wake it by pressing a button and then place your fingertip on the designated area, which would initiate the unlocking procedure.
sparkxster
: "1. How good is the front facing camera? 2. Even though OP 6T doesn't have an ip rating how good is the water resistance it has? 3. What are the new additions to Oxygen OS for Android 9.0? 4. Does the 6T have an notification led? 5. Will the US get the thunder purple color?"
PA
:
1.
It's the same as the one on the OnePlus 6.
2.
The phone is not water-resistant, which kind of tells you all you need to know. You put it in water, you void the warranty, and that's the bottom line.
3.
With Android 9.0, you get much more customization options and other improvements to the interface - I've previously detailed them
right here
, rest assured the OnePlus 6T sports all of these.
4.
No, there's no notification LED.
5.
Yes.
andrewc31394
: Will this phone have software updates directly from OnePlus or T-Mobile? Is there any bloatware pre-installed? If so, can it all be removed? Are there any software differences between buying the phone from T-Mo vs. OnePlus directly?
PA
: There are merely a couple of T-Mobile apps pre-installed - T-Mobile's own carrier app and Unlock are both pre-loaded on the device. You also get a fancy magenta boot logo with As far as software updates are concerned, T-Mobile will be responsible for the software updates for the device, which means that they will certainly come at a slower pace compared to the unlocked regular OnePlus 6T version.
emanresu: Do you think that the pixels that light up brightly for the optical fingerprint recognition are subject to accelerated burn-in?
PA
: We wouldn't worry, as this scenario sounds a bit unlikely. The animation is very brief and wouldn't cause accelerated burn-in. With today's OLEDs, you really have to push things very far in order to experience any burn-in.