OnePlus 6 is announced with Snapdragon 845, larger screen, and interface gestures
25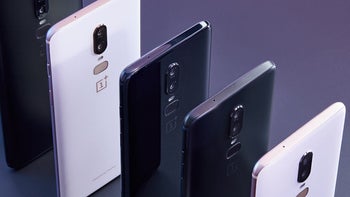 Four years – that's how it has been since the official announcement of the OnePlus One. Hated by some and loved by others, the phone ultimately paved the way for a series of "flagship killers" to enter the stage. Meanwhile, OnePlus grew from a little-known Chinese phone company with only a bunch of employees to a well-known among enthusiasts brand boasting millions of followers.
Today, OnePlus announced its latest smartphone – the
OnePlus 6
. It is a true successor to the OnePlus 5 and 5T before it, offering great specs at a price reasonable given today's trend of 1000-dollar flagships being the norm. But more about pricing later. Let's now go over all that makes the OnePlus 6 special.
Design: glass meets metal
Like it or not, the OnePlus 6 is adopting the glass-on-metal construction so popular among smartphones today. Gorilla Glass 5 covers its front and back, while a metal frame surrounds the handset from the sides. On the bottom you'll find a 3.5mm jack, a sole loudspeaker, and a USB-C port, while OnePlus's trademark alert slider is on the right side, above the volume buttons. At the back reside the fingerprint scanner and the protruding dual camera.
For the first time on a OnePlus phone, we now have water resistance, although the exact IP rating remains unclear. All we know is that the OnePlus 6 can be safely used under the rain and should survive a dunk in a puddle.
OnePlus will be offering its latest flagship in three colors, named Mirror Black, Midnight Black and a limited-edition Silk White.
While the OnePlus 6 has a larger, 6.3-inch display, it would practically have the same footprint of the previous OnePlus model. Here's how it compares to the OnePlus 5T and some of its rivals:
Display: adopting the notch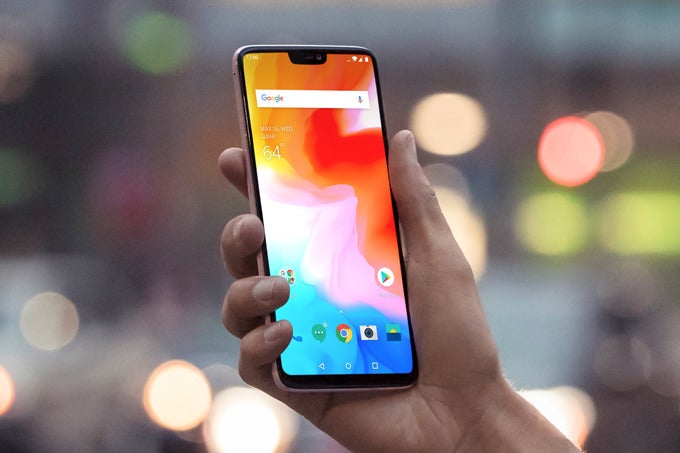 Yup! As expected, the OnePlus 6 features a screen covering nearly all of its front side, but also has a cutout at the top where the front camera and earpiece reside. In other words, there's a notch on the OnePlus 6. You should be able to mask that side area with a black background if you find it too distracting, but not until a future OxygenOS update.
In terms of specs, we're dealing with an AMOLED display stretching almost 6.3 inches in diagonal, with curved corners added for extra elegance. The resolution is 1080 by 2280 for an extra-tall 19:9 aspect ratio.
Software and interface: bringing gestures to OxygenOS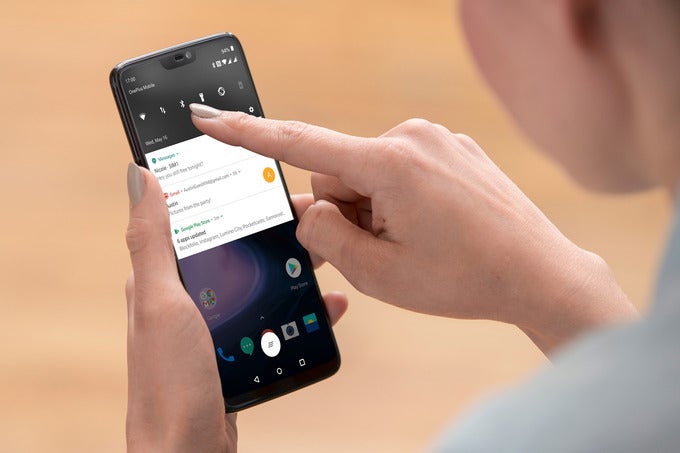 The latest Android 8.1 runs on the OnePlus 6, and while it does have a stock look and feel to it, there are quite a few extras that have been thrown in there. For starters, users have the option to replace the on-screen navigation buttons with gestures, freeing extra screen space at the bottom. A single swipe up brings you home, for example. A swipe up and pause brings forth the recent apps list. And a swipe up from the left or right side takes you a step back.
OxygenOS on the OnePlus 6 also includes familiar features, such as Reading Mode, which optimizes screen settings to make text clearer, and screen-off gestures, allowing you to launch the camera or flashlight without even looking. Gaming mode (previously Gaming DND mode) mutes notifications and gives higher priority to the game being played. Face Unlock is available as an alternative to using a lock-screen PIN or the rear-mounted fingerprint scanner.
As always, the OnePlus 6 comes clean out of the box, with no bloatware preinstalled. Two thumbs up for that!
Processor, Memory, Connectivity
As its maker points out, the OnePlus 6 is a phone built for speed. That speed is delivered by the best Qualcomm platform yet, namely the Snapdragon 845, which is paired with 6 or 8 GB of RAM for swift multitasking. Storage stands at 64GB for the base model, but you can also have it with 128 or 256GB built in. There's no storage expansion here, though.
OnePlus is launching its latest phone unlocked, as usual, so you can use it with any GSM carrier you prefer thanks to support for 40 bands across Europe and the Americas. A Dual SIM slot is in place for those who need it.
Camera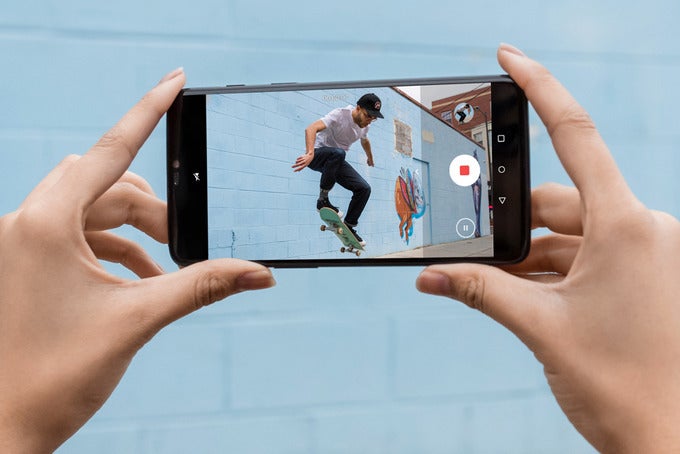 The OnePlus 6 comes with a 16MP main camera with an F1.7 aperture. While these specs are identical to what last year's OnePlus 5T had, the 6 has a new image sensor with bigger, 1.22-micron pixels, while optical image stabilization keeps the frame steady. All of this should translate to clearer shots, especially in low light. That's the theory, at least.
The secondary camera is a 20MP F1.7 shooter, and while it doesn't have any optical zoom properties, it allows bokeh effects to be applied to the images. And at the front, a single camera lets you shoot selfies in 16 megapixels and videos up to 1080p resolution.
Thanks to beefier hardware, the OnePlus 6 has gained the ability to shoot 4K video at 60 frames per second, just like some of its top competitors, including the iPhone X and the Galaxy S9+. Another new feature is the more dramatic slow-motion mode, which shoots 480 frames per second in 720p resolution. The video editor that's also thrown in there is a welcome addition.
Battery
Here's one area that hasn't seen much improvement over the previous OnePlus heavyweight. In fact, the OnePlus 6 offers the same 3300mAh charge capacity as its predecessor, with no wireless charging on board. But on the other hand, you have the super-fast OnePlus Dash Charge technology that charges the battery rapidly even if it is actively being used.
Price and release date
You won't have to wait long to get one of these, as the OnePlus 6 release date is set for May 22 in the US and Europe. Prices start at 529 dollars for the 6GB+64GB memory configuration. The 8GB+128GB and the 8GB+256GB options will be priced at $579 and $629 respectively. The limited edition Silk White model will come in a 8GB+128GB configuration only.